Mango Benefits and Side Effects | Mango for Skin
Mango Benefits and Side Effects | Mango for Skin
Published on
Finally, the season of mango is here! Every single bite leaves an unbelievably delicious taste in your mouth. Biting, squeezing, and sucking out the sweet pulp are the yummiest summer times ever. Not only ripe mango tastes best but peeled green mango with salt and red chilli powder also feels like sour gummy candy in mouth. No matter how old you are, but the craze for mango is still the same.
But do you know that "Nature's candy" not only quenches our taste buds but also offers the many benefits to our skin? However, despite being packed with so many benefits, skin-conscious people are afraid that they may get acne from mango. You must be curious to know if eating mango causes acne.
Does mango cause acne?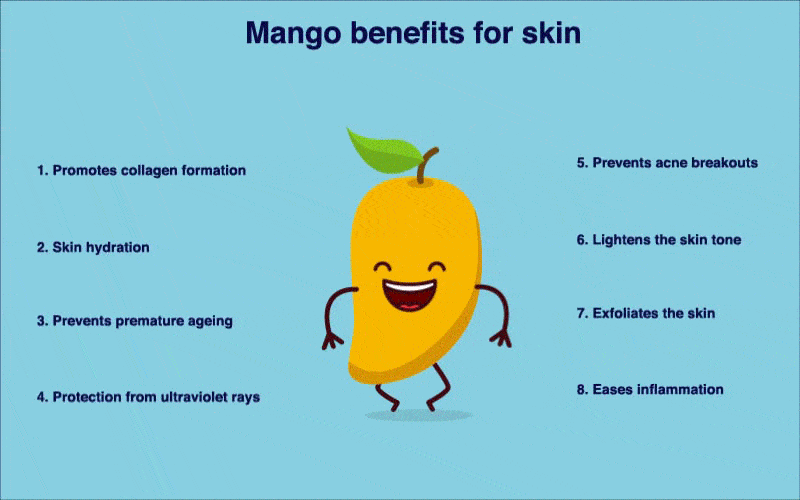 Mango is considered a fruit of hot potency hence it is believed that its excessive consumption raises the body's temperature and can cause acne, rashes, or stomach irritation. Many controversies have been going on since the old times about mango benefits and its side effects.
People with acne-prone skin must be curious to know about the side effects of eating mango. Eating mango in moderation will not cause acne or pimples. So, next time when you will have a discussion over mango with your friends, colleagues and family members, just bust the myth that mango does not cause acne if consumed in moderation. However, when it comes to the benefits of mango for skin, even health care experts say that it is a great fruit for the skin.
Mango for skin
This pulpy yummy fruit not only amazes our taste buds but it also offers many health benefits. It contains antioxidants, fibres, potassium, magnesium, selenium, calcium, iron, and phosphorus, riboflavin, vitamin (B6, A, C, E, and K). These nutrients altogether offer health benefits to the immune system, heart, eyes, digestive system, skin, and hair.
Besides, Mango is among those few fruits in the natural world that has xanathoid polyphenol called mangiferin. Mangiferin is a powerful yellow-pigmented antioxidant found in the seed, skin, and kernel of the fruit.  It has been found that the presence of this antioxidant enhances the benefits of mango for skin health. Researchers have found that mangiferin is quite effective to ease inflammation caused by acne or some other skin conditions.
Mango benefits for skin
1. Promotes collagen formation
Mango is a great source of most "skin-friendly" vitamin C. This vitamin is responsible for the formation of collagen, a protein that provides structure to skin and combats fines lines and wrinkles.  In short, collagen restores skin elasticity and prevents skin sagging. Along with eating yummiest slices, application of mango masks can do wonder for your skin.
2. Prevents acne breakouts
Being packed with astringent and cleansing properties, mango serves as wonderful fruit to prevent acne and pimples. It contains magnesium, which reduces acne whereas the presence of Vitamin C reduces inflammation caused by acne. Besides, mango also helps in opening the clogged pores of the skin. Applying the pulp of mango on the skin for approximately 8-10 minutes helps to unclog pores, and hence prevents acne or pimples.
Even, scientific evidences have also suggested antimicrobial action of mango leaves against the acne inducing bacteria.
3. Promotes skin hydration
Skin hydration is another hidden benefit of mango. This sugary fruit also helps to keep the skin nourished and hydrated. This summer, please consider eating mango daily for smooth, supple, and beautiful skin. Moreover, applying the pulp of mango creates great moisturizing effects along with skin cell repair. In other words, external application is the best alternative for those who have doubts about mango benefits and side effects.
4. Protection from ultraviolet rays
Several studies have suggested that mango extracts were found to act against the UVB-induced skin ageing in mice. Mangoes are enriched with beta-carotene and vitamin A, which offer skin health benefits. Beta-carotene is also a photoprotective agent, which helps to protect the skin from the ultraviolet rays. Anti-cancerous properties are other notable benefits of mango. Past Chinese studies have revealed that polyphenols in mangoes exhibit anti-cancerous activities and hence can prevent skin cancer.
A research study has also found the ultraviolet protective effects of mango extract in the hairless mice. In this experiment, the inhibitory action of mango extract was determined against photoaging.
5. Prevents premature ageing
Mango for skin is really good because of its antioxidant properties. Antioxidants in mango reduce free radical damage and cell death in the body, hence subsequently reduce the signs of early ageing, fine lines, and wrinkles on the face.
6. Lightens the skin tone
This delish summer fruit not only hydrates the skin but also helps to lighten the skin tone. Eating mango regularly helps to enhance your skin radiance and brings the natural glow to your skin. Application of powdered mango skin pack is one of the best ways to get rid of blemishes and patches, which ultimately give you bright and beautiful skin.
7. Exfoliates the skin
This summer fruit only brings best for your overall well being and skin as well. The remarkable benefit of mango for skin is that it helps in removing dead skin cells. Mango fruit contains natural fruit acids called alpha-hydroxy acids (AHA's). Its mild exfoliating properties help in skin rejuvenation by removing the dull and dry skin.In addition, AHA helps to clear the dark spots. The pulp of the mango fruit helps to smooth and even the texture with a brilliant shine.
8. Eases inflammation
The benefits of mango for skin are numerous. Mangiferin has a powerful antioxidant in the seed, skin, and kernel of the fruit. This antioxidant is known to be quite effective in reducing the inflammation produced by skin conditions like acne or rosacea.
What are the side effects of eating mango?
You have heard it many times, "excess of everything is bad". Too much consumption of mango might prove wrong for those who are suffering from certain medical conditions. People having diabetes, skin allergies, obesity, and some other health issues should be more careful. In such cases, prior consultation with a doctor is a must to avoid unwanted side effects on health.
While enjoying the delish and yum-yum taste of mango, do not forget to eat in the right proportion for the healthy body and skin. So, this summer pamper your skin with mango and get many 'Sunkissed pictures' with your loved ones.